Planning for a Just Collapse with Kate Booth
September 1st, 2023
55 mins 29 secs
Season 5
Tags
It is not every day that urban planning and societal collapse are discussed in the same conversation. But for Kate Booth – activist academic and Associate Professor at the University of Tasmania, both are critical and interlinked issues. In this very educational episode, Kate talks us through the Insurgent Planning movement as well as the Just Collapse movement. At a time when Australia's Federal Government is scrambling to build 1.2 million new homes while the recent climate data suggests that an ecological collapse is imminent, these are difficult but necessary conversations that we need to be having.
Kate Booth is Associate Professor of Human Geography, and activist academic, in the School of Geography, Planning and Spatial Sciences at the University of Tasmania. Her teaching and research addresses socio-ecological inequity in the context of rapid and unprecedented global change, and she leads a 'Critical Collapse Studies' research program underpinned by her expertise on insurance in a changing climate. She also teaches urban and regional planning. You can read more about Kate here.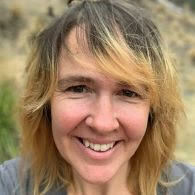 Just Collapse is an activist platform dedicated to socio-ecological justice in face of inevitable and irreversible global collapse. You can find out more about Just Collapse here. You can also read more about insurgent planning here or watch a video that Kate produced here.
An interview with Kate and Tristan Sykes is also available from Collapse Club on YouTube.
Kate is a regular contributor on the Town Planning Rebellion (TPR) Facebook Group, which is administered and moderated by your PGAP co-hosts, Mark Allen and Michael Bayliss.
Liked this episode and want to hear more? In 2021, PGAP recorded three episodes on the road in Tasmania, with many special guests, which can be listened to here, here and here. You may also like our episode on Retrosuburbia with David Holgren.
Help the world to degrow by helping PGAP to grow! Share this episode with your family and friends and rate and review us on Apple Podcast. Contact us with your feedback and suggestions for future topics or guests.
PGAP is made possible through the kind support of Sustainable Population Australia. The opinions of PGAP guests, including any legacies past or present, are exclusively theirs and do not always reflect the views of PGAP or SPA.