S2 Episode 4: How we can have an Inspired Evolution with Amrit Sandhu
March 16th, 2021
1 hr 10 mins 3 secs
Season 2
Tags
*One of the downsides of becoming intimate with Post-Growth is that one becomes acutely aware of the human impact on our planetary systems. One is continuity at loggerheads with growth based economies that are pulling in the opposite direction of where they should be going and what they should be doing - and the people just don't seem to stop! *
Now I don't know about you, but this can often fill me with depression, anxiety, existential depression and morose apathy. And this is just on one of my rare good, well-adjusted days. So how do we keep ourselves hopeful, in good spirits and avoid turning into one of those bitter, cynical sterotypes that our younger selves were adamant we'd never become? Why do all those life coaches and spiritual types all seem to look so happy, smiling away with those big white teeth which look like they've never had to down a surly cup of black, treacly coffee in ages? PGAP talks to Amrit Sandhu - life coach, conversationalist, fellow podcast host -of Inspired Evolution - and long-term smiler, laugher and optimist - to give us some sagely advice.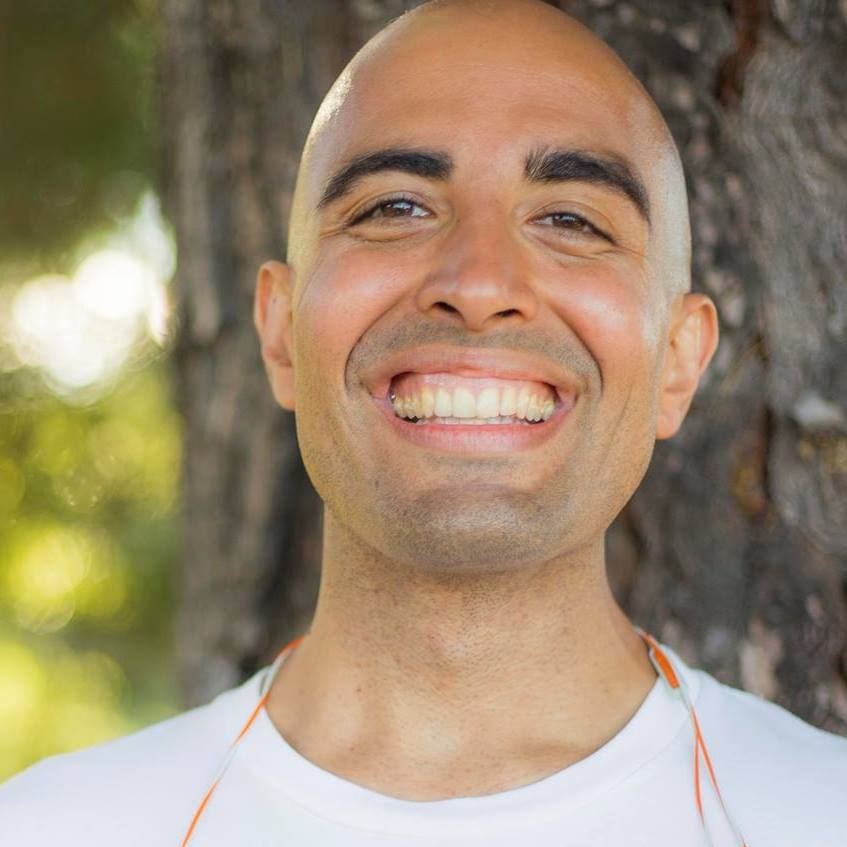 I remember the first few times I met Amrit – we kept bumping into each other at yoga workshops and meditation retreats. You couldn't really miss Amrit as his joyful laughter filled the room a good five minutes before he event entered it. A few months later Amrit invited me to his Inspired Evolution Facebook group. My social media feed was full of doom, gloom, human error and looming environmental apocalypse. So it took me as surprise when these Inspired Evolution posts kept flicking up – they were full of gasp good news, positive stories, people doing lovely things to each other and their environment. Such a panacea for my social-media mental health and a daily injection of optimism my soul so needed.
I then started listening to the 'Inspired Evolution' podcast and YouTube videos. I had no idea there were that many entrepreneurs and game-changers out there, doing great things that often intersect with Post-Growth theory, and making a livelihood out of it to boot! Amrit opened my eyes and ears (and probably my heart and soul) and we came friends ever since. He is a brilliant podcast host too!
So what happens when two podcast hosts get together? Lots of laughter for a start, closely followed by plenty of D&Ms as Amrit shares how he got out of the toxic construction industry to now do what he does best. Can Amrit turn me into an optimist over the course of an interview or will I drag him down into my black abyss where he so rightfully belongs? The race is on! And the most important philosophical question for all of us – when two podcast hosts talk, who becomes interviewer and who becomes interviewee?
You'll just have to listen and find out for yourself, won't you.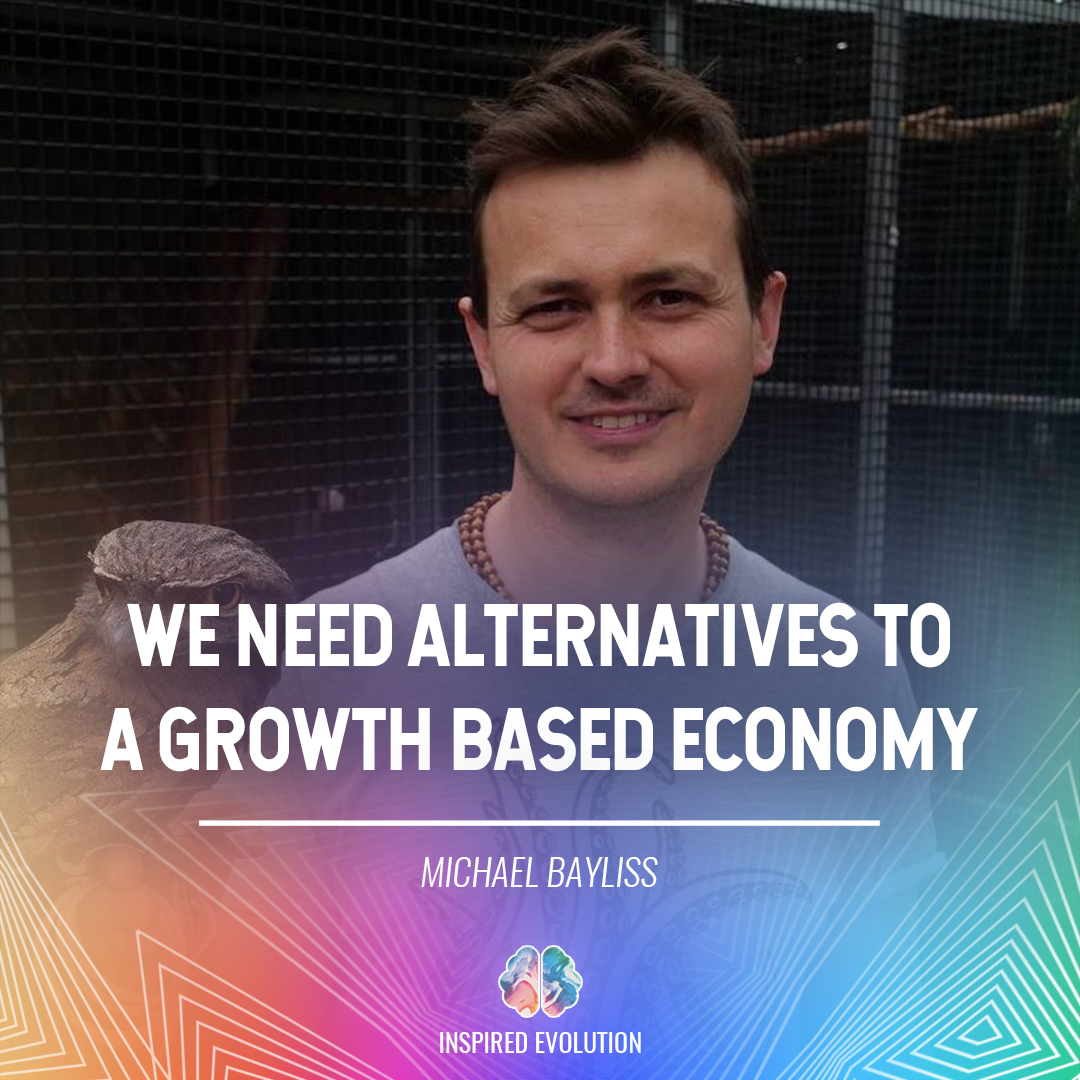 Talking about interviewer/interviewee dynamics, I was actually interviewed by Amrit for the Inspired Evolution podcast, which has just been launched. It was difficult for me to get in the habit of ANSWERING questions rather than ASKING them, but if you want to know my warped thoughts on Post-Growth, behaviour change, hell, even spirituality, then the YouTube video can be found here.
At the end of the interview I play a song titled 'Antarctica' that was written by.....me and recorded with a fellow musician David Blair 13 years ago. It has since seen new life in the latest EP by my band Shock Octopus. It is a song about feeling stuck in the present but working toward a better future. I'm not sure if this is the best self-help advice but I felt it resonated with the conversation that Amrit and I shared in the interview.
As always, this podcast is made possible by Sustainable Population Australia, and hats off to them for giving space to a podcast that explored the post-growth realm more broadly, from all different angles. Next episode P-GAP will be going back headfirst into population land by talking to American author and sustainable population advocate Karen Shragg.
In the meantime! If Amrit made you feel more optimistic about the world and your min/spirit, and you would like more of this, you be Inspired by more of his Evolution on the Inspired Evolution Website, YouTube, Facebook, Instagram, Linkedin. That should keep you going!
However, if that just isn't enough links for you, want to know my favourite Inspried Evolution interviewes? I am a massive fan of Charles Eisenstein so naturally I want you to click on this link. As I interviewed Darpan on PGAP you may be interested in his Inspired Evolution interview here. Lastly, I really love the interview with Koya Webb. I really vibe with her politics and the ide of Fierce Compassion!
Did you enjoy this episode? Hated it? Would have loved it if it weren't for my annoying vocal ticks and choice of music? Make your thoughts public on Apple Podcast (or your favoured podcast listening medium). Your feedback and metadata help PGAP to GROW - the only thing we do want to see growing!