Helping the Animals to be not so Anonymous with Adrian Sheriff
September 2nd, 2021
45 mins 14 secs
Season 2
Tags
*Post Growth Australia Podcast travels to Animals Anonymous HQ in the Adelaide Hills to chat with Adrian Sherriff – wildlife demonstrator, native vegetation restorer, and co-host of the excellent Aussie Wildlife Show podcast. As a wildlife demonstrator, Adrian brings native mammals, reptiles and birds to schools, universities and other groups to provide kids and adults an up close and personal education on Australia's unique and diverse animals. As co-host of Aussie Wildlife Podcast with Steve Crawford, he chats to a range of fascinating guests around everything wildlife and beyond. As someone who sees the bigger picture of human impact on this dry and ancient continent and the impact this has on other species, Adrian also shares with PGAP his vision of a Post-Growth future.
*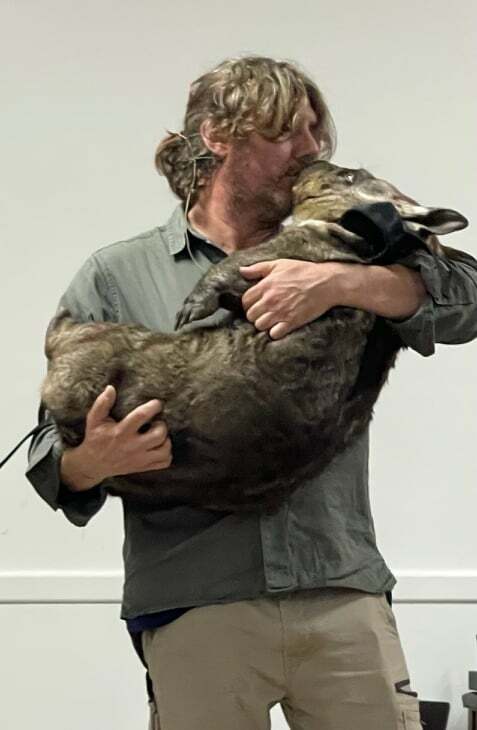 This is not the first time that a conversation between Adrian and I has been recorded! I first met Adrian back in 2018 on a prior visit to Adelaide where we bonded over Sustainable Population (it is actually possible to bond over this controversial issue – trust me!) Not only did we bond, I was also invited to talk exclusively on this issue as the (then) new Communications Manager for SPA. We recorded outside and the interview ended both abruptly and apocalyptically as a storm surged through toward the end. I took it as a sign of the times we are in!
Adrian was the first person I contacted when I arrived back in Adelaide in March this year. My stay was only supposed to be 'a couple of weeks' - this turned out to be nearly six months in the end! Anyway, I was delighted when Adrian said an emphatic 'yes' to a return interview for PGAP. It was great to come back to the property and capture Adrian's own thoughts issues such as population, degrowth, and what a different, more eco-centric society looks like for him. It was also a great opportunity to ask some questions around the ethics of domesticating native animals and the pros and cons around this. I have always found the conversations with fellow podcast hosts an extra blast and Adrian proves to be no exception.
It was also a fantastic opportunity to meet with the animals at Animals Anonymous HQ and wander his property, including an impressive native vegetation restoration project. Below is me bonding with a python and overcoming my ophiophobia.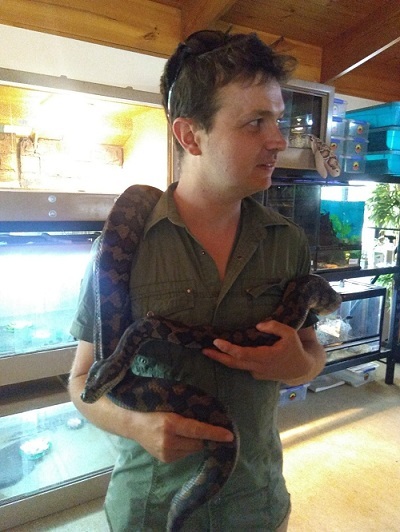 A word of warning: For some reason my recording apparatus struggled with the numerous background sounds on the site of Adrian's property and overcompensated by dipping in and out of volume throughout the discussion. From the technology's perspective, it was trying to do the right thing, but at the end of the day I have to give it an A for effort but an F for execution and for not consulting with me its intent. I spent days on manual 'volume' control editing to even out the worst of it but unfortunately it still sounds a bit shaky.
Also – because I had to record the intro and outro before I left Adelaide, I had no idea of what music I was going to play for the episode so I didn't say anything 'on air.' So let it be written that I'm honoured to be playing a track from local Adelaide musician and dear friend of mine Sean Tyner called 'On The Streets.'
I hope you all forgive me for the recording quirks on this occasion. I promise to make it up to you next time!
And a couple of links before we say adieu:
The Animals Anonymous website can be found here
The Aussie Wildlife Show can be found here on Podbean. It can be found on many Podcast listening platforms.
If you haven't had enough of me rabbiting on and want to know what I sound like as an interview, my interview with Aussie Wildlife Show can be found here.
Sean Tyner's music can be found on his website here.
Finally, thank you to Sustainable Population Australia for making PGAP possible. You may be interested in their new short video 'Let's rethink Big Australia' here